Author's Note
"Growing up on a farm in rural Illinois, access to internet was always a hinderance in my family's household. The screeching sound of the dialup internet starting up was all too familiar until about 7 years ago when my family was finally able to have WIFI connectivity (wireless local area network). Even then, video streaming was still out of the question, and it would take several minutes to send an email. When my brother and I moved home in March of 2020 because of the COVID-19 pandemic, we were both finishing up graduate school then both had to start jobs working remotely in May. We needed to coordinate Zoom calls because we would easily overload the WIFI network if both of us were on one at the same time.  Even then, our internet would crash at least once a day. This is a familiar story for many rural American households that has been heightened as millions of Americans began working or learning from home due to the pandemic. Investment in broadband coverage is something that I happen to find very important if we are to be socially responsible investors." – Ailie Elmore
Current Status of Rural Broadband

The need for digital interaction is increasingly becoming a necessity for people around the world. From working remotely, learning virtually, telehealth appointments with providers, and accessing other essential goods and services through E-commerce, the world has never been quite this connected. However, that isn't quite true for all Americans. 22.3% of rural Americans and 27.7% of Americans in tribal areas still lack basic broadband coverage. The Federal Communications Commission (FCC) defines broadband as 25 megabits per second (mb/s) of download speed and 3 megabits per second (mb/s) of upload speed, however this continues to evolve with technological advances. For reference, the size of this article is roughly 1 megabyte which would take around .32 seconds to download with an internet speed of 25mb/s.
Unfortunately, many rural communities have been left behind in this technological advancement which has not only cost the United States socially, but economically as well. For example, many jobs have moved to remote work due to the COVID-19 pandemic, and companies have realized they can cut down on costs by not having employees come into a physical building. McKinsey estimates that remote work offerings will continue to grow as a result of the pandemic which could mean more job opportunities for those living in rural areas. However, improved access to jobs traditionally performed in an office setting only increases the demand for rural broadband connectivity.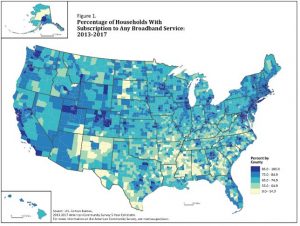 Broadband Subscription by County in the United States.
Last month, we focused on education technology advancements that are reshaping the way we learn. However, 12 million school-aged children are left without broadband access in their home, inhibiting virtual learning potential. The COVID-19 pandemic shed light on this as these children were left without broadly available resources to complete their schoolwork. Likewise, remote employment has also been one of the positive outcomes of the pandemic, however the rural workforce struggles to keep up with the connectivity needs for video conferencing, transferring files, or collaborating virtually. The need for a digital infrastructure exists however the upfront costs for providers to initially invest becomes a tough pill to swallow. The initial cost to create a fiber network costs around $80,000 per mile which makes it difficult for companies to recoup their investment in rural areas where the population per square mile is much lower. This cost alone has disincentivized many major providers from investing in high-speed internet in rural areas.
The United States government has worked to spark growth in rural broadband through investing in broadband infrastructure. $47.3 billion was invested from 2009 through 2017 in this industry, and the USDA has invested heavily in programs, loans, and grants for rural connectivity infrastructure. In August of 2021, Agriculture Secretary Tom Vilsack announced $167 million in capital deployment for 12 states lacking access to high-speed internet in rural areas. "Broadband internet is the new electricity. It is necessary for Americans to do their jobs, to participate equally in school learning and health care, and to stay connected." – Secretary Vilsack.
However, is this enough to bring rural America up to speed? In an analysis performed Deloitte on behalf of the USDA, they estimated an investment totaling between $130 billion and $150 billion would be needed to fully support rural broadband coverage and ensure high speed access. The U.S. government's targeted, minimalist approach to rural broadband has left the door open for private companies to capitalize on this investment opportunity.
The Potential Economic Impact of Rural Broadband in the United States
While the need for rural broadband is apparent, it begs the question what kind of impact could investment in this space have? The USDA projects that if rural broadband enhancement was realized to its full potential, then it would boast an additional $18 billion of annual economic improvements in the United Sates. Furthermore, $1 billion in additional e-commerce sales would occur if broadband coverage was equivalent in rural areas to that of urban regions. Not only would rural broadband access improve the economic environment, but would also improve the quality of life for rural Americans. 60% of Americans who live more than 70 minutes from a physician do not have internet coverage that can handle telehealth visits. Additionally, lack of broadband inhibits peoples' ability to connect digitally to sources of entertainment, knowledge, and social interaction.
A revitalization of rural communities could also occur if people are able to have the comforts of an urban digital infrastructure anywhere in the country from improved access to rural broadband. Improved rural internet connectivity could give people the capability to work remotely and more affordably live anywhere in America. The COVID-19 pandemic has already sparked a movement away from cities to the suburbs. Adequate investment in rural broadband could drive that movement even further away from metropolitan areas to the ex-burbs and towards the pristine, scenic mountains of Colorado, the beautiful deserts of New Mexico, or amber waves of grain of Iowa.
Not only would investment in broadband help the everyday person in rural America, but it could have substantial benefits to the agriculture industry, the lifeblood of many rural communities. Like many industries, technological advancements in agriculture have pushed the industry into digital integration. Precision agriculture has had substantial impacts on the productivity and efficiency of U.S. food production which has been driven by the farmer's ability to connect to a digital universe. Currently, broadband is giving farmers access to a wide array of digital technologies, but the USDA projects that $47-$65 billion (Table 2 below) could be added in gross benefit to the economy if the full potential of broadband, and the digital landscape was reached in America's heartland.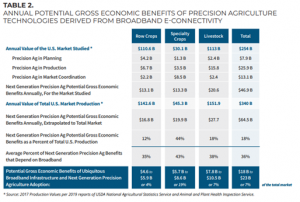 The impact rural broadband could have on the U.S. Agricultural Economy. 
Row-crop farming operations have more widely adopted precision agriculture technology but there is still room for improvement in broadband infrastructure for livestock and specialty crop production. An investment in digital infrastructure could reap substantial environmental benefits as the USDA projects an 80% reduction in chemical application and up to 50% reduction in water usage as a result of precision agriculture. The World Economic Forum estimates that if just 15-25% of farms adopted precision agriculture technology then by 2030 there could be a 15% decline in greenhouse gas emissions and a 20% decline in water usage. A reduction in water consumption like this could provide 64.4 billion gallons of water additionally to Americans every day. Achievement of these kinds of broad-based outcomes would be major milestones across many of the United Nation's 17 sustainable development goals, particularly 2) Zero Hunger, 3) Good Health & Wellbeing, 6) Clean Water & Sanitation, 8) Decent Work & Economic Growth, 11) Sustainable Cities & Communities, and 12) Responsible Consumption & Production.
Investment in Rural Broadband
In addition to the U.S. government making targeted investments in rural broadband, many private industries are also taking part in the broadband rollout only where investment is economically viable. Cellular-based internet providers such as AT&T and Verizon offer rural broadband coverage, but internet speeds are still troublesome for many consumers. There has also been a push to deploy fiber optic internet infrastructure by several private companies. However, this option is questionable economically for lower density communities with cost estimates of up to $80,000 per mile for broadband lines. The Federal Communications Commission offers assistance through the Alternate Connect America Model to private companies building fiber infrastructure in underserved areas. Unfortunately, this assistance is again targeted as the program is usually only available for very remote areas. As a result, private investment in rural broadband is economically constrained and limited in its scope and effectiveness.
A potential champion for rural broadband deployment has recently emerged in the founder of Tesla, Elon Musk. Through his company, SpaceX, he is revolutionizing the way that internet is provided in a capital intensive, winner-take-all approach. Using low-orbit satellites that are closer to earth than standard satellites, SpaceX has launched a program called Starlink that can provide internet service at triple or quadruple standard "high speed" internet. Currently, Starlink can provide between 80Mbps and 150Mpbs in download speeds and 30Mbps of upload speeds which is close to 6 times the definition for rural broadband mentioned earlier. Starlink advertises it will be able to provide its broadband coverage to anywhere in the world.  While there is an initial consumer setup cost of $499 for a satellite and router then a monthly fee of $99, Starlink is a highly, attractive alternative to many Americans yearning for faster internet.  The estimated payback on setup costs for a rural broadband subscriber at $150 per month is about 10 to 12 months.  Musk said in May 2021 that the company had received more than 500,000 pre-orders for Starlink service.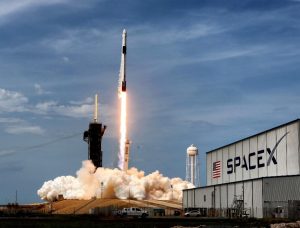 Starlink has deployed more than 800 satellites thus far and says it still plans to launch 12,000 satellites costing around $10 billion to provide high speed internet to the masses.
Opportunities for Investment
As an industry that is experiencing rapid growth and is likely to continue to do so, rural broadband could be attractive for investors seeking to deploy capital in a socially responsible space. An investment in broadband coverage could take a variety of shapes as there are many players in the telecommunications industry. An investment in Starlink could be a particularly attractive long-term investment given its unique ability to provide high speed internet around the globe.  The resulting business moat achieved through Starlink's highly capital intensive ($10 billion) business plan could boast substantial returns in the future if Starlink is successful in establishing their low orbit satellite network and achieve subscriber goals.  It is unlikely that another competitor will emerge with the boldness to spend $10 billion or more to compete.  A publicly available Starlink would be an intriguing pure play on the rollout and associated societal and economic benefits of rural broadband deployment.
Musk has not announced a target date for the IPO for Starlink yet, but it is projected to come in the near future.  In advance of a potential Starlink IPO, the First Trust Index NextG ETF – NXTG offers a broadly diversified play on the digitization of rural communities across the globe.  NXTG's strategy is to invest in public companies applying substantial resources to the research, development, and application of fifth generation ("5G") and next generation digital cellular technologies within two sub-themes of 5G: infrastructure & hardware and telecommunications service providers.  5G infrastructure & hardware consists of data center REITs, cell tower REITs, equipment manufacturers, network testing, validation equipment, software companies, and mobile phone manufacturers.  Telecommunications service providers consist of companies that operate the mobile cellular and wireless communication networks that offer access to 5G networks.
Our expectation is that NXTG would likely capitalize on a Starlink IPO when it becomes available. Currently, NXTG's current holdings include companies developing digital technology such as Apple, Nvidia, HCL technologies, and NEC Global. NXTG's 1 year return is just over 33% and has just over $1 billion in assets with exposure domestically and in foreign markets.
The deployment of rural broadband has the potential to provide for lasting economic and societal benefits that touch a variety of industries and rural communities left behind in the digitalization of commerce and social interaction. From an improvement in agricultural production and sustainability, to better access to health care and education, an investment in rural broadband will widely benefit mankind economically and socially and potentially achieve clients' investing with purpose goals and objectives.