Chalkboards, pencil sharpeners, and slide projectors: all represent old school educational tools. Today these low tech devices are being rapidly replaced by virtual reality, white boards that can record what is written, and most importantly, computers. The locus of education has quite literally changed, from a physical lecture hall to a virtual classroom in the cloud. Leading this revolution is education technology, also known as "EdTech." Education technology combines information technology and computer software with a wide array of educational methods to foster learning and student growth. Combining tools like virtual reality and artificial intelligence with other forms of media like podcasts and instructional videos, Ed Tech is re-shaping the way people learn from ages 2 and up. The COVID-19 pandemic spurred growth within this sector and has some wondering whether this trend will continue post pandemic.
Spurred Growth from COVID-19 Pandemic
1.2 billion children around the world went from sitting in classrooms to sitting behind a computer in April of 2020. A new wave of e-learning, which uses computer assisted teaching to educate, persisted throughout school districts. Prior to the COVID-19 pandemic, online resources such as Coursera and Kaplan existed but were not as widely adopted. As teachers navigated e-learning, students and parents had to take a more self-taught approach to learning. E-learning offered students more flexibility in their learning environment and gave them opportunities to seek out more widely available resources in the digital world. As a result of COVID-19, researchers are projecting a $70 Billion increase in the e-learning investments in the next five years.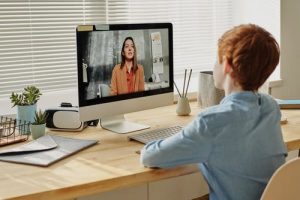 Major Players in Education Technology
There are a variety of interlocking participants within the education technology market. The government has been involved in the space since 1994 with the creation of the Office of Educational Technology within the Goals 2000 Educate America Act. As part of the United States Department of Education, it works to develop policy, media tools, and digital infrastructure to support education technology for K-12 learners. Prior, to COVID-19 there was little funding available to build an e-learning infrastructure and even post pandemic, resources are scarce particularly in rural or lower income areas.
Private industry has been eating up the opportunity to build out an education technology infrastructure and flourished even further during the pandemic. Experts predict by 2025 that there will be more than 100 publicly traded companies listed as an education or training companies with market cap's greater than $1 billion. The ability for these companies to create cost-effective technology that can be integrated into a classroom setting or at home will be crucial to their growth. Companies such as Course Hero and Coursera help students learn a variety of subject matters such as calculus and biology through online courses and interactive platforms. Other companies such as Wondrium have capitalized on the fact that millions of Americans of all ages are seeking continuous learning experiences by offering courses in traditional university level topics such as history, economics, psychology, etc. as well as special interest topics like food, music, travel, and many more.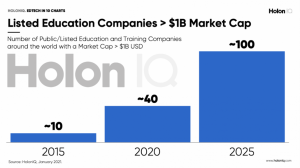 Education and training companies are projected to continue increased market cap growth.
While some traditional learning institutions may fight the education technology boom, many more public universities are embracing new ways of instruction and learning. For example, the University of Illinois at Urbana-Champaign has been at the forefront of investing in technology for classrooms and e-learning. In particular, through the Center for Innovation in Teaching and Learning, investments in eTexts have been made to integrate classrooms with online media. Craig Lemoine, the Director of the Financial Planning Program at Illinois, has worked to build 3 personal finance eTexts that not only can be used for student courses but eventually can be sold to private individuals or companies. "The final product matched our goal… High quality from authorship to final digital product, accessible across any number of learning styles," said Dr. Lemoine.
Investment Opportunities in Education Technology
The market for education technology reached close to $75 billion in 2019 and is projected to grow at a 20% annual rate to $319 billion by 2027. In 2020 alone, $2.2 billion in venture and private equity capital was raised for U.S. education technology startups focused in augmented reality, artificial intelligence, and online course development. Block chain technology integration is also expected to drive innovation and investment in education technology as the academic world seeks better options for safeguarding student records and performing analytics.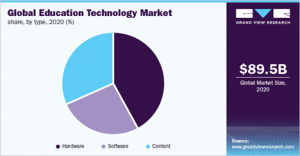 Hardware development in EdTech dominants the market.
While the United States and other countries have embraced investment in education technology, it has not been as well received in China. In July of 2021, China announced regulations that banned companies from making a profit in the education sector. Particularly, companies offering tutoring services must be registered as non-profit. This caused many Chinese EdTech companies' share prices to plummet. Domestically, investment in education technology continues to boom with no signs of similar government heavy-handed prohibition on for-profit business models.
There are a variety of options for investing in the nascent EdTech sector whether that is by investing directly in listed companies in the sector such as Chegg,Inc. (NYSE: CHGG) or Kahoot (Oslo: (KAHOT.OL). Note neither CHGG or KAHOT has yet achieved profitability.  Another new, more diversified approach to publicly listed investment vehicles in this space is Global X Education ETF – EDUT, first listed on the NASDAQ on 7/10/21. EDUT seeks to invest in companies providing products and services that facilitate education, including online learning and publishing educational content, as well as those involved in early childhood education, higher education, and professional education. This ETF's top holdings are major players in EdTech such as Chegg, Pearson, and Zoom. As a newer ETF, EDUT has only $8 million under management today.  We will continue to monitor EDUT progress as a thematic investment possibility in education technology.
Future Implications and Growth Potential
As a challenger to traditional learning, EdTech has some people questioning if it will replace traditional learning methods. We believe EdTech will aid and augment traditional learning rather than replace it by creating more collaborative and productive learning environments that increase student engagement while increasing educator efficiency. EdTech is geared towards creating a more accessible environment for students to learn. However, many of EdTech's benefits are highly dependent on a student's ability to access this technology through broadband networks. Shockingly, 22.3% of rural Americans and 27.7% of Americans in tribal lands lack even basic broadband coverage.
We believe there is a high correlation between Opportunity Zones (low income communities), food deserts, and educational deserts. In the coming months, we plan to explore this overlap and devise purposeful investment strategies to improve the lives of children and families across the country. Check back next month for an in-depth analysis on investing in broadband and the opportunities it could present.