Background on Organic Agriculture
Walking down the aisle of the grocery store, a shopper can find a variety of different food labels attempting to win their attention such as "No Added Sugars", "Gluten-Free", or "No Artificial Dyes or Flavors." More recently, labels such as the one below have been popping up in grocery stores across the U.S.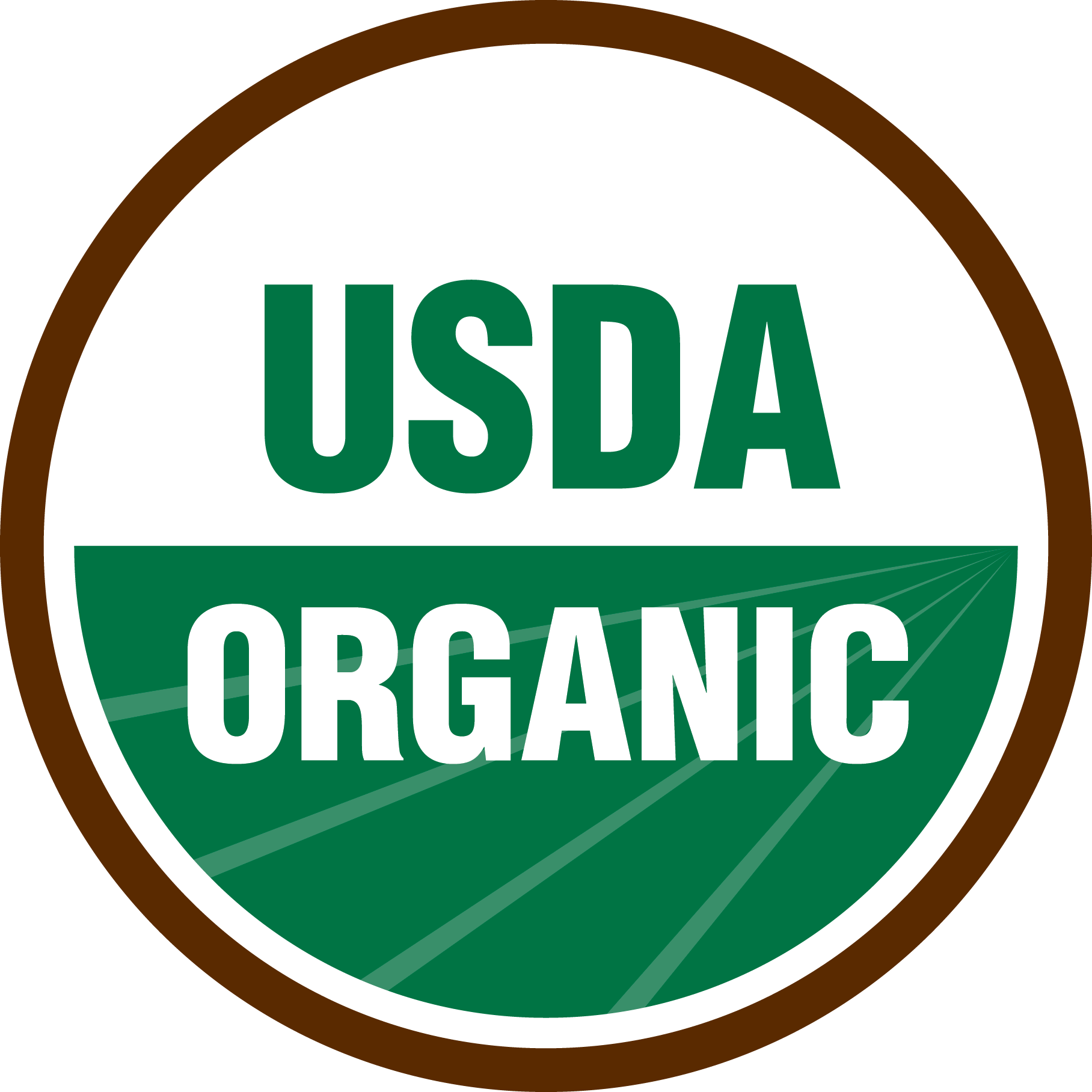 It used to be that organic products were only found in select stores that specialized in organic or sustainable food products, but more and more organic products are going mainstream and can be found in big-name grocery stores such as Walmart, Costco, and Target. In fact, Walmart, is the #1 seller of organic products offering more than 400 different organic products. That figure surprises some people that expect traditional specialty stores such as Whole Foods or Trader Joes to dominate the space, but the market share of Walmart outpaces both of these popular organic store chains.
But what actually constitutes a product as organic? While this definition could be different based on who you ask, the Environmental Protection Agency defines "organically grown" as food that is grown and processed without synthetic fertilizers or pesticides. However, natural pesticides that are derived from animals, plants, bacteria, or minerals are allowed. Organic production has been taking place in the United States since the 1940s but it started to gain steam in the 1970s as consumers demanded more environmental awareness and became increasingly concerned about how food was grown. In 1990, Congress passed the Organic Foods Production Act to develop national standards around organic production in both livestock and crop production. The National Organic Program which is a marketing program managed by the USDA aims to create and monitor uniform standards around organically produced products to aid consumers in their decision-making.
Drivers for Organic Products
Organic sales currently account for more than 4% of total U.S. Food Sales and that number is projected to continue rising in the future. Total sales of organic products grew 31% from 2016 to 2019 domestically and are projected to grow at a compound annual growth rate of 10% through 2025. The dominant organic product in the U.S. market is fruits and vegetables with large growth in 2020 in the pantry stocking and meat, poultry, and fish sectors.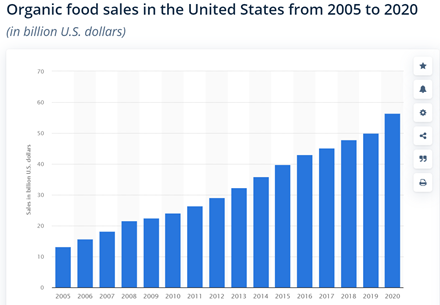 Organic sales are on the uptick with sales reaching $56 billion in 2020.
While there are a variety of factors driving organic food demand such as environmental or health concerns, the largest reason is consumer preference and affordability. Historically, organic products cost anywhere from 10-50% more than conventional products. When it comes to one of the U.S. largest agricultural exports, corn, the price of organic corn is more than double its conventional counterpart. Organic production is more costly for producers.  In addition to higher seed and land costs, producers face a costly 3-year transition period in the land to become certified organic. During this time, the land must be "cleansed" of any conventional pesticides or fertilizer. Once a farm is deemed USDA certified organic, the returns are considerably higher than conventional methods for corn and soybeans in particular. The table below from the USDA presents data that shows that although organic production costs are higher than conventional costs, the higher prices received for organic crops more than offsets the higher production costs for corn and soybeans.  The same can also be said for organic meats and produce however there is less widely available information about those markets.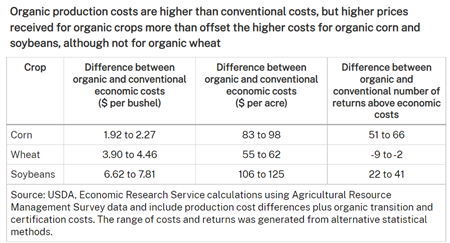 While the costs of organic production are higher, this is offset by higher prices received.
After investigating the returns to organic production, you might ask, why aren't more farmers producing organic products? The biggest hurdle for farmers is the three year transition period and capital expenditures needed to become organic. The three-year transition can cause a financial hit to producers that can be difficult to recover from. Another difficulty for organic producers is the lack of infrastructure in the organic industry. Unlike, conventional products like corn and soybeans, there is not a centralized market such as an exchange for organic products to be bought and sold. Organic products often require more specialized handling and storage and there are not as many facilities able to handle these needs. While government policy is working to change this, there is much work to be done in this space if the U.S. is to meet its own domestic demand for organic products.
Investment in Organic Agriculture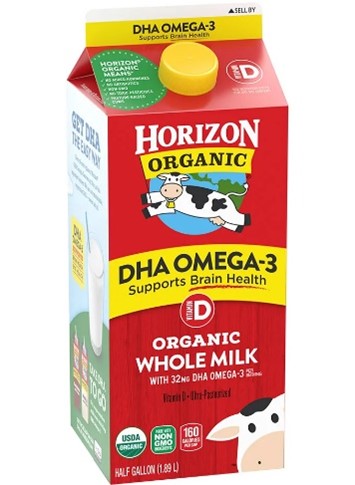 An investment in organic agriculture could be attractive for investors not only in investment performance but also may fit their preferences to actively support environmental, social, and governance (ESG) standards. Many organic companies share these beliefs and would seek to leverage capital from ESG investors to transform and grow the organic marketplace and infrastructure. Investors looking to capitalize on organic investing have a variety of options. They could invest in the common stock of companies selling organic products such as WhiteWave Food (WWAV) which owns 4.2% of the organic market share with popular brands such as Horizon Organic. In 2017, WhiteWave Food was acquired by Danone, one of the largest multinational food companies.
Another common stock option could be to invest directly in organic grocers such as Sprouts Farmers Market (SFM) which specializes in premium organic foods and performed quite well against large grocery competitors during the COVID-19 pandemic. Sprouts delivers a unique farmers market experience with an open footprint of fresh produce at the heart of the store and welcoming look and community feel.  Sprouts offers an assortment of fresh, high quality food that is sought after by its more affluent and educated consumers. Because they are able to capitalize on health and quality conscience consumer base, their profit margin is 4.5% which is strong compared to one of the largest grocery stores in the U.S., Walmart, who has a profit margin of 1.4%. Sprouts' ESG operating focus has also impressed its stakeholders, particularly its efforts to reduce food waste by 78,000 tons.  Sprouts has an equity market cap of $3.2 Billion and trades at a reasonable 11 times trailing twelve month earnings.  Sprouts is ramping its growth plans and intends to add 300 – 400 new stores in expansion markets of Texas, Florida, California, and New England.
In last month's article, we discussed the Promised Land Opportunity Zone Fund which provides investors the opportunity to deploy capital in farmland which has historically provided strong returns with inflation hedging capabilities. The farmland in this fund lies within an opportunity zone, providing tax benefits to investors. The Promised Land Opportunity Zone Fund is looking to deploy capital to organic conversions in opportunity zones as part of its broader opportunity zone investment in farmland. If you are interested in learning more about the Promised Land Opportunity Zone Fund, please contact Ethan Rhee at ethan@servantfinancial.com.
Another option for investment in a private fund that is more of a pure play in the production of organic food, an investor could invest in an organic farmland REIT such as the Vital Farmland REIT LLC (Fund II) managed by Farmland LP. Farmland LP's has assets under management valued at more than $200 million across its two farmland funds, totaling close to 15,000 acres. Farmland LP earned the highest corporate sustainability rating by HIP Invest Inc. in 2021 for its ESG efforts.
For ETF investors, there are fewer options for direct organic investment however several ETFs are investing in food production and food processing. The First Trust Nasdaq Food & Beverage ETF (FTXG) has $6.4 AUM and also has a AAA rating (best) for ESG impact by Morgan Stanley Capital International. Their primary holdings are in food processors such as Bunge, Tyson, Archer-Daniels-Midland, and General Mills. These companies are all making significant strides towards increasing processing capabilities for organic products.
While organic agriculture has made substantial advances in the past ten years, this emerging agricultural sub-sector is still in need of capital to grow productive capacity and reach its full potential. An investment in organic food production provides for diversity of consumer preferences as well as environmental and sustainable production benefits for American farmers and farming communities. The historical and projected organic sales data and savvy investor capital flows suggest that organic agriculture is a durable trend that is here to stay.