As artificial intelligence begins to revolutionize knowledge and service industries, a new set of tech stocks titled the "Magnificent Seven or Mag 7" has emerged to replace the once dominant FAANG stock narrative (Facebook (Meta), Apple, Amazon, Netflix, and Google (Alphabet)).  Netflix has been removed and Tesla and Nvidia added to arrive at Mag 7 meme portfolio. The Mag 7 tech companies have all been performing extremely well, led by Nvidia whose shares have nearly quadrupled within the last twelve months. A lot of the buzz around the Mag 7 performance relates to the potential of artificial intelligence (AI) technologies, particularly Nvidia which is the leading chipmaker for AI applications.
As the chart depicts below, the Mag 7 has been a major contributor to the performance of the S&P 500 index market benchmark as well as the NASDAQ QQQ index.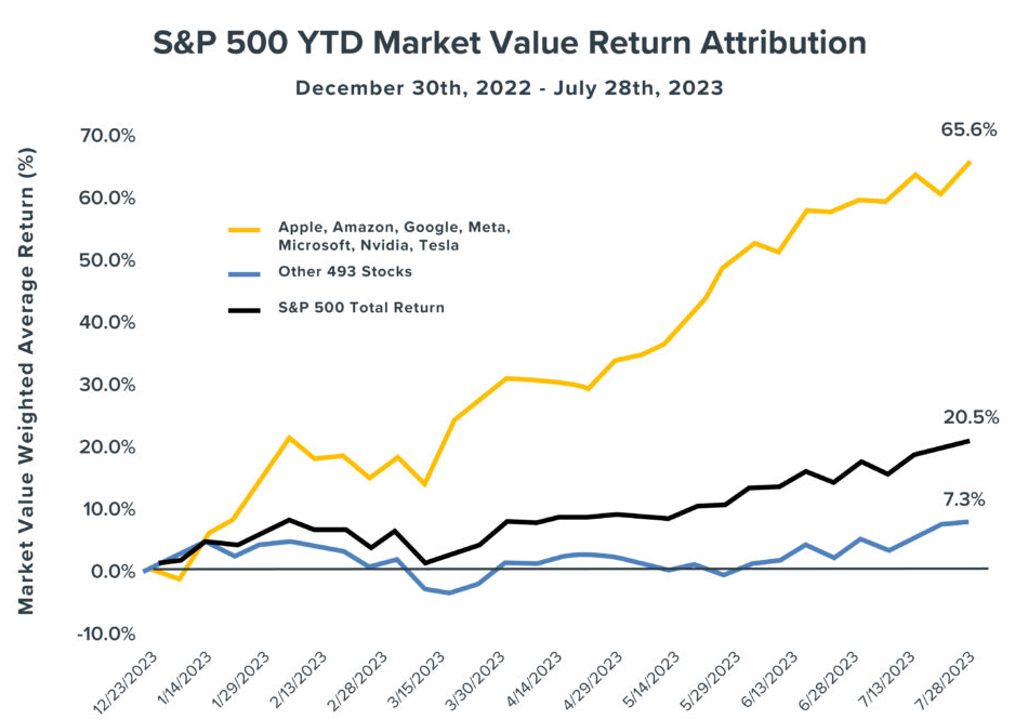 The NASDAQ reports that year-to-date through July 28, 2023, the Mag 7 gained 65.6% while the remaining 493 stocks in the S&P 500 gained a mere 7.3% as a group. The Mag 7 collectively have gained more than three times the S&P 500 as a whole of 20.5%, and more than 8.5 times the other 493 stocks over this period.  This recent performance has undoubtedly caught the attention of both experienced investors and traders, emboldened by AI's potential to navigate us to a new era of technological innovation and human prosperity.
In ancient cosmology, the seventh heaven corresponded to the seven classical planets – the Sun, Moon, Mercury, Venus, Mars, Jupiter and Saturn.  Saturn, the seventh planet, represented the outer limits of the material or known world to the ancients.  The Roman god Saturn came to represent this Golden Age of abundance, wealth, and peace.  Many technological experts believe that developing AI technologies is a gateway to a new "seventh heaven" and that the Mag 7, tech titans, or gods, will define tomorrow and the age to come.
Let's begin our cosmological analysis by reviewing the composition of the Mag 7 and their business prospects before moving on to considering the group's valuation metrics.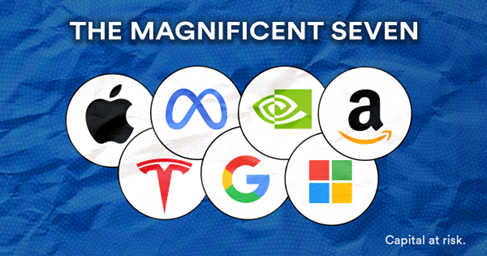 Image Source: https://leverageshares.com/en/insights/the-magnificent-seven/
Magnificent 7 Stocks
Apple: Recognized for its iconic products such as the iPhone, iPad, MacBook, etc. Apple's array of high-quality devices, software, and services fosters a devoted customer base, resulting in consistent revenue growth (some people buy a new iPhone every year).
Amazon: Specializes in e-commerce, grocery stores, and cloud computing services. Amazon asserts major dominance in online retail services and has a consistent customer base which fuels its strong financial performance.
Alphabet (Google): Owns one of the world's most well-known and used search engines, Google. Also specializes in online advertising, data analytics, and Google Drive services.
Meta: Formerly known as Facebook, Meta runs social media platforms such as Facebook, Instagram, and WhatsApp. They have improved and redefined social media usage and will continue to do so for many years to come.
Microsoft: Microsoft specializes in computer software, gaming services, cloud services, etc. They are the developers of Windows, one of the most used computer operating systems globally.
Nvidia: A tech company that specializes in designing and producing graphics processing units (GPUs), artificial intelligence computing, and virtual simulations. Nvidia's growth as a company has grown exponentially over the last five years due to its high sales and earnings.
Tesla: One of the first EV (electric vehicle) manufacturers. Specializes in electric vehicles and renewable energy solutions (solar panels and energy storage/batteries). Tesla's innovation and increased sales makes it an attractive investment for many.
We previously noted the early potential of AI technologies in our January 2023 featured article "Where Have All the Good Workers Gone?" suggesting that "…the technology sector is busily working on solutions to these labor shortages, like artificial intelligence and machine learning."  At that time, we recommended "…the best way for investors to express a purposeful view on the future emergence of artificial intelligence and machine learning is through the leading technology heroes, like Microsoft and Apple, who have massive distribution capabilities through their existing software and hardware product suites and business relationships across sectors. We like iShares U.S. Technology ETF (IYW).  This ETF provides exposure to the leading U.S. electronics, computer software and hardware, and IT companies."  Importantly, IYW's allocation to the Mag 7 is dominated by overweight positions to tech stalwarts AAPL 18.1% and MSFT 16.4%.  IYW also holds positions in GOOG 5.5%, NVDA 4.8% and META 3.8%, but has no allocation to either AMZN or TSLA.
While recognizing the long-term promise of AI, we were perhaps overly concerned about market conditions at that time given the Fed hiking campaign and possible near-term recessionary conditions.   With the benefit of hindsight, we missed an opportunity to capture "titanic" profits on this emerging AI narrative/Mag 7 meme. If we fast forward, we see the following price performance of the Mag 7 and IYW year-to-date through August 25, 2023: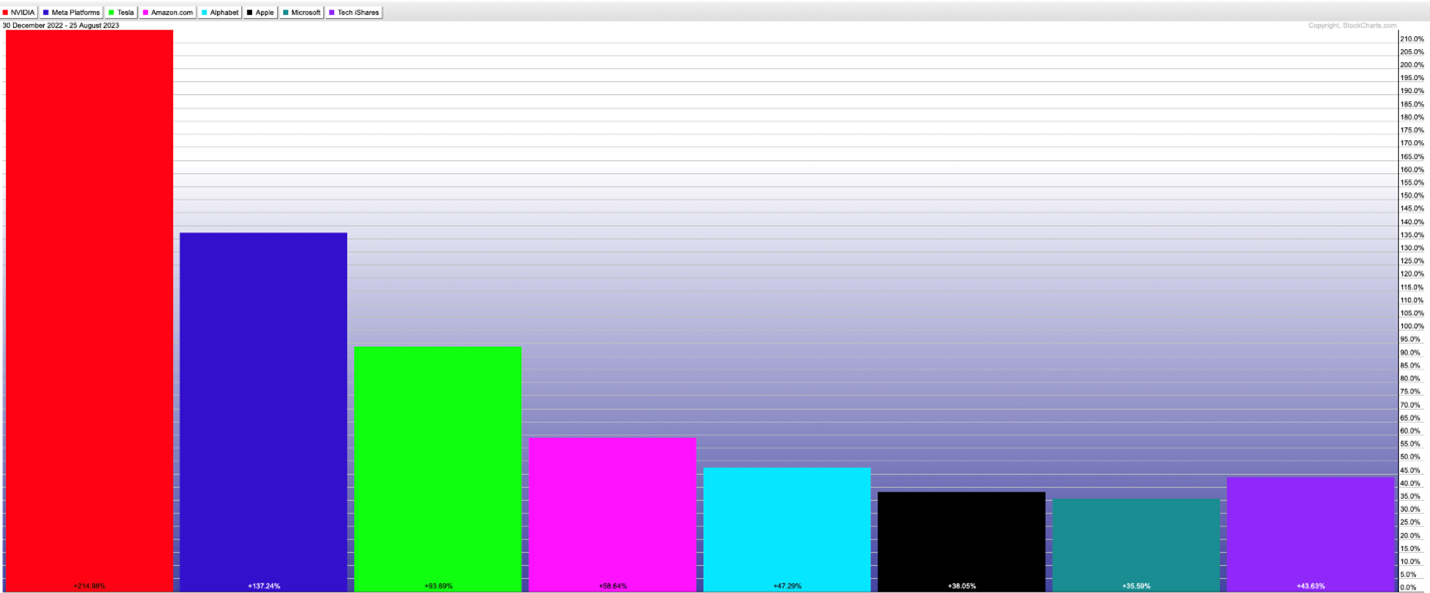 The chart shows that the top two performers were NVIDIA up 215% and Meta up 137% year-to-date while the diversified IYW ETF gained a respectable 44%.
Potential Valuation Concerns
As the Mag 7's share prices have surged, there are growing concerns about overvaluation and their stock prices reaching speculative levels. Whether these companies are overvalued or not is debatable. There are many fundamental investors that acknowledge AI's promising future that are applying traditional approaches to Mag 7 valuations.  Many institutional investors and registered investment advisors, including Servant Financial, look to Morningstar, a leading Chicago-based financial services company, with regard to overall market and individual stock valuations.  Servant Financial has utilized the VanEck Morningstar Wide Moat ETF (MOAT) in its model client portfolios for many years to obtain exposure to high, quality domestic equities.
Morningstar's forward-looking, rigorous equity research process seeks first to identify companies that have sustainable competitive advantages, or moats, around their businesses that are expected to lead to high returns on invested capital.  A company's moat can be comprised of switching costs, intangible assets, network effect, cost leadership, and efficient scale.  Morningstar considers a company's economic moat rating when forecasting future cash flows and discounting those future cash flows to arrive at a current intrinsic per-share value for each company.  Importantly, Morningstar has concluded that each of the Mag 7 are great businesses with sustainable competitive advantages, i.e. moats, and are worthy of investment at the right price.
Morningstar utilizes their economic moat ratings and fair value estimates to identify 40 companies trading at the widest discounts to their estimate of intrinsic or fair value to include in the Moat index. The Moat index has a staggered rebalance in which it is divided into two sub-portfolios, each with 20 stocks. One sub-portfolio reconstitutes in December and June; the other in March and September.  In the most recent reconstitution of the index on June 16, 2023, Amazon, Meta and Microsoft were kicked out of the Moat index due to valuation.
Morningstar's U.S. Market Strategist was interviewed by Investors.com earlier this month on the Mag 7 businesses.  As depicted in the table below, only Alphabet (GOOG) was determined by Morningstar analysts to be undervalued while four of the remaining Mag 7, Microsoft (MSFT), Meta Platforms (META), Amazon.com (AMZN) and Tesla (TSLA), were viewed as fairly valued. Two Mag 7 stocks, Apple (AAPL) and Nvidia (NVDA), were considered overvalued by Morningstar.  Accordingly, only GOOG was retained as a top ten holding in the MOAT ETF with a 2.8% allocation.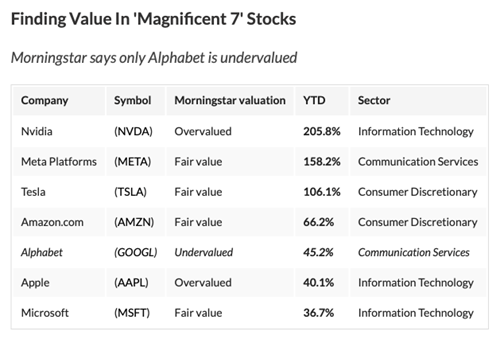 We embraced the power of AI by enlisting ChatGPT's assistance for this article.   Chat GPT stands for Chat Generative Pre-Trained Transformer and was developed by an AI research company, Open AI. Open AI's mission is "to ensure that artificial general intelligence benefits all of humanity."    ChatGPT is an artificial intelligence (AI) chatbot technology that can process our natural human language and generate a response.
We asked ChatGPT a couple of questions.  First of all, we were struggling with a title for this article, so we asked ChatGPT for headline recommendations.  The headline above was its second attempt.  Secondly, we queried how artificial intelligence was being used by investment advisory businesses.  This query ultimately led us to the BUZZ NextGen AI US Sentiment Leaders Index.  We were surprised to find an ETF that is focused on identifying meme stocks through the use of artificial intelligence.   Here is their hyperbole-laden pitch:
It's a New Era of Investing!
Social media and mobile technology have fundamentally changed the way we engage with stocks. There's a ton of online chatter every day. Changing sentiment and our collective views clearly impact their value. With BUZZ, we use AI to monitor 15 million online posts a month to measure which stocks have the most positive investor sentiment. Then, we rank the top 75 stocks each month to feature in the BUZZ NextGen AI US Sentiment Leaders Index™. Leading-edge science and game-changing insights are why savvy investors have their eyes on BUZZ.
We were curious whether the new era BUZZ had outperformed our IYW long-term pick-to-click.  Despite holding each of the Mag 7 (NVDA 3.5%, GOOG 3.2%, AAPL 3.1%, MSFT 3.1%, AMZN 3.0%, META 3.0% and TSLA 3.0%), the VanEck Social Sentiment ETF (BUZZ) significantly underperformed IYW with a price gain of 28% compared to IYW's 44% appreciation year-to-date through August 25, 2023 and MOAT's 20% gain over the same period. The BUZZ ETF has fewer holdings at 75 stocks compared to IYW's 136 but was more diffuse with respect to the buzz around the Mag 7 or AI meme stocks as it didn't make sizeable bets on any of these titans.  The BUZZ ETF has only about $60 million of assets under management compared to $10.9 billion for the more established IYW ETF.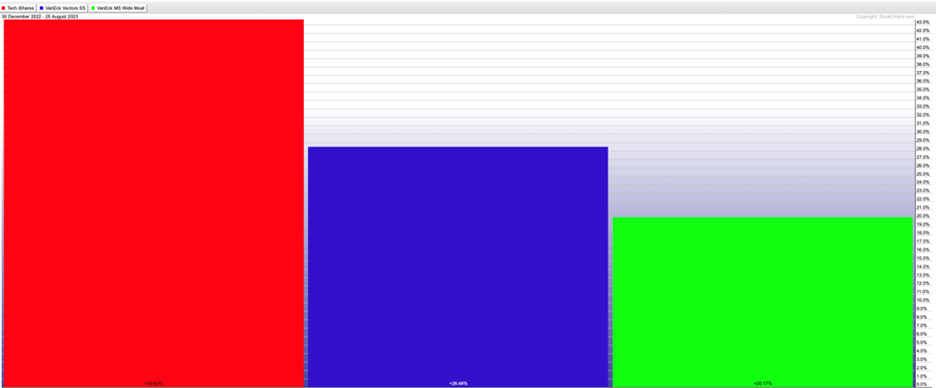 We were concerned about speculative excesses in the market valuations of Mag 7 and noted weakening economic conditions, so we placed a small tactical short position (1% to 2%) in ProShares Short QQQ ETF (PSQ) in mid-July for risk tolerant accounts invested in the Core-Satellite Moderate and Aggressive model portfolios.  PSQ targets daily investment results, before fees and expenses, that correspond to the inverse (-1x) of the daily performance of the Nasdaq-100 Index.  PSQ is short each of the Mag 7 stocks with its top ten short holdings comprised as follows: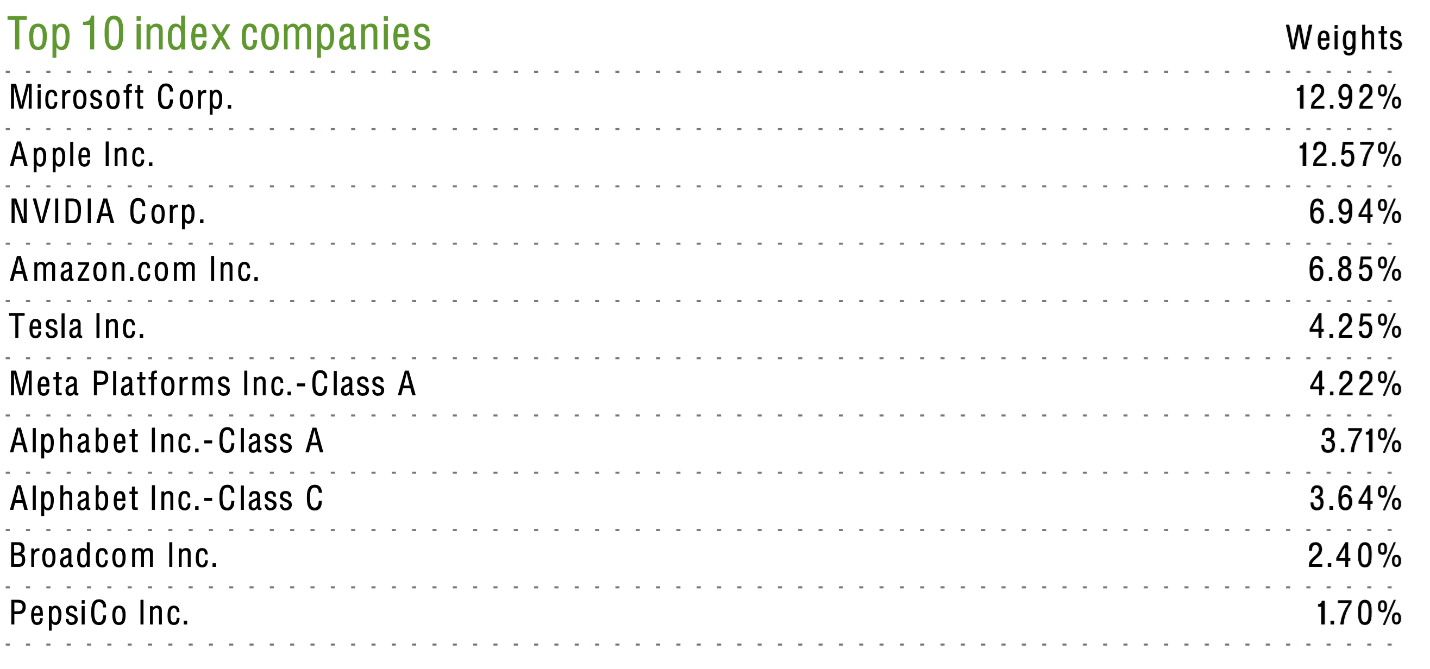 The Mag 7 represent a new era of tech titans.  Each of these companies has one or more sustainable competitive advantage, or moats, that are characteristic of great businesses to own and hold over the long-term.  Many of these tech titans have business plans to utilize the power of AI to transform industries. While concerns about overvaluation and market sustainability will inevitably wax and wane, this heavenly seven will continue to expand and define the human experience and the cosmos. Whether they will maintain their magnificence is unknown, so we'll continue to evaluate the Mag 7 for investment purposes based upon rigorous fundamental analysis in accordance with the father of observational astronomy Galileo Galilei's dictum:
"Measure what is measurable and make measurable what is not."
Heavenly Bonus
Saturn will be visible to the right of the Super Blue Full Moon on August 30-31, 2023